ICIDS 2015 will feature a variety of workshops to be held at Aalborg University's campus in Copenhagen on Tuesday, 1st of December, 2015.
Workshops will be free of charge. Please bring your own lunch, or visit the Cantina.
Workshop Organization:
Bjørn Flindt Temte: ICIDS2015Workshops@gmail.com
Interested participants are encouraged to contact the organizers of each workshop directly (contacts below)
Due to illness of some organisers and lack of participants, some of the proposed workshops have been cancelled. They have thus been deleted from the list below.
To find your workshop. Please meet at the ICIDS reception in ACM15 at 0900 or 1300. Map of AAU, CPH Buildings: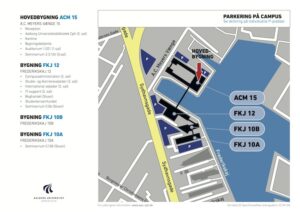 Workshop Programme:
 Track
Morning. Dec 1st. 9-1230
Afternoon. Dec 1st. 1300-1630
Let's Talk IDS
Schoenau-Fog & Reng: Building Research and Development Bridges – Connecting Interactive Digital Storytelling Research with the Game Industry and Media Content Producers.

Room: Frederikskaj 10A 0.108

This workshop aims at building bridges between the Interactive Digital Storytelling community, the game technology industry sector and interactive media content producers. The goal is to initiate collaborative projects and to create a foundation for an international community of researchers, industry and practitioners in the field of Interactive Digital Storytelling. The workshop will thus invite participants to present and discuss the challenges related to the research, design, development and evaluation of interactive digital storytelling artifacts, experiments and products.

Sign-up: 

http://tinyurl.com/ICIDSBridges

Contact: hsf[@]create.aau.dk

Koenitz , Haahr,  Ferri, T. Sezen, and D. Sezen: The Ontology Project for Interactive Digital Narrative

Room: Frederikskaj 10A 0.108

Interactive Digital Narrative (IDN) is an interdisciplinary field in which long established perspectives (literature studies, narratology, oral storytelling practices) and newer views (computer science, communication and digital media studies, artificial intelligence) intersect. This variety of traditions creates difficulties for the exchange between researchers originating in different fields. A richer shared vocabulary would provide great benefits for the field. However, it is crucial for new vocabulary to be widely accepted. Consequently, we propose a community effort to develop an IDN ontology, inspired by similar efforts in game ontology.

Contacts: hkoenitz[@]uga.edu 
Mads.Haahr[@]cs.tcd.ie
gabriele.ferri[@]gmail.com
tonguc.sezen[@]bilgi.edu.tr 
dsezen [@] istanbul.edu.tr 

IDS Models
Szilas & Chen: Narratologically-Inspired Models for Interactive Narrative

Room: Frederikskaj 10A 3.161

The field of Interactive Digital Storytelling has largely underexplored the wealth of narrative theories. Therefore, this workshop aims at gathering both AI researchers and narratologists, with the shared goal of shaping the field towards what we have called "narratologically-inspired" models and systems.

Contacts: Nicolas.Szilas[a]unige.ch, ffchen [a] mail.ndhu.edu.tw

More info and Sign-up:

http://tecfa.unige.ch/perso/szilas/nimin/NIMIN_workshop_2015.html 

Szilas & Chen: Narratologically-Inspired Models for Interactive Narrative (Cont.)

IDS Inspiration
Hansen & Triantafyllidis:  Storytelling lighting design (ST-LiD)

Room: Frederikskaj 12 3.62

Storytelling and light can have a bidirectional connection: Light can be used as a multidimensional design element, where light is communicating and telling a story. But also, the other way, stories can affect the multidimensional design of light. In this context, this workshop examines the use of lighting design in storytelling.

Contacts: {ekh,gt}[a]create.aau.dk

More info:

http://www.light.aau.dk/news/show/storytelling-lighting-design–st-lid—an-icids-workshop.cid199564

IDS, Theatre & RPG
Temte: When Our Destinies Meet: Design and Play a Blackbox Larp.

Contact: shadedsoul[a]gmail.com

Developing IDS
Ido A. Iurgel, Jörg Petri, Frank Zimmer, Ingeborg Schramm-Wölk: "(Interactive) Digital Storytelling for Art Education and Museum"

Room: Frederikskaj 12 0.006

In this workshop, we will explore the current and potential use of (interactive) digital storytelling in museums, in particular art museums. We want to obtain an overview of opportunities and potentials, but also of risks and pitfalls. At the end of the workshop, the participants shall also have elaborated criteria for employing digital storytelling systems in museums. We put "interactive" within parenthesis because, though our focus will be on interactive systems, we may want to analyze or compare non-interactive digital storytelling as well. There are no prerequisites for attending, everybody from the experienced scholar to the curious beginner is welcome; every prospective participant shall write a personal motivation statement (between a few lines and a maximum of one page) that we will distribute to the other attendees. This workshop will draw upon results from a preceding summer school, http://digitalbeuysstory.net/, but we do not expect participants to have any connection to this school. 

Contact: ido.iurgel[a]hochschule-rhein-waal.de

Vosmeer & Roth: Creating Video Content for Oculus Rift – Scriptwriting for 360° interactive video productions

Room: Frederikskaj 12 0.006

In this workshop, we will discuss the participants' own previous experiences with producing and/or watching video content for Oculus Rift, or other 360° video devices. We will give a short presentation of our current research into the field, and some important concepts concerning this particular kind of storytelling will be discussed. After determining the challenges and possibilities that the medium implies, we will works towards developing concepts for settings and stories for surround video productions.

Contacts: m.s.vosmeer[a]hva.nl, roth[a]spieleforschung.de

Social IDS
Venditti, Ciancia, Goldoni & Piredda: Social Media fiction: Designing stories for social media

A.C. Meyers Vænge 15, 4.058

This full-day workshop presents a process for the design of fictional stories on social media, where the plot can guide the narrative and interactive experience. Activities and discussions build on the idea that the structure of the most renowned social media profiles – i.e. Facebook, Twitter, Instagram – can be considered as a narrative structure based on storytelling and sense-making, in which forms of micro narratives can be elaborated. Working with both professionals and academics, the main goal of the workshop is the research for new expressive, narrative and interactive ways to engage with the audience, harnessing potentialities and limits of social media storytelling.

Contacts: {simona.venditti, mariana.ciancia, francesca.piredda}[a] polimi.it,katia.goldoni [a] gmail.com

Please sign up here:  http://tinyurl.com/SocialMediaFiction 

Venditti, Ciancia, Goldoni & Piredda: Social Media fiction: Designing stories for social media (Cont.)